How much Grinch porn is "too much" Grinch porn? If you're on a fan fiction website with an adult slant, I imagine the moment there's more Grinch porn than there is– say– Lord of the Rings porn or whatever is a worrying sight. But if you're on the first page of a Google search results tab meant for all ages on some pop culture figure, all it takes is one extremely dirty search result to get the reasonable Googler to cross their arms and go "Hey! There is too much Grinch porn up here!"
In any case, too much Grinch porn, Minions porn, Frozen porn, and almost any other kid friendly property you can come up with is exactly what happened after Google revealed its Fan Fiction tab for search results. This is courtesy of research by Gizmodo who did the initial dirty Googling, showing that when the tab was searched for, stories about the Grinch taking virginities, the Minion involved in BDSM antics and a Frozen story about Anna and Elsa called "More Than Sisters" (Um.) made their way all over the search results of this bold new initiative.
All images courtesy of Gizmodo.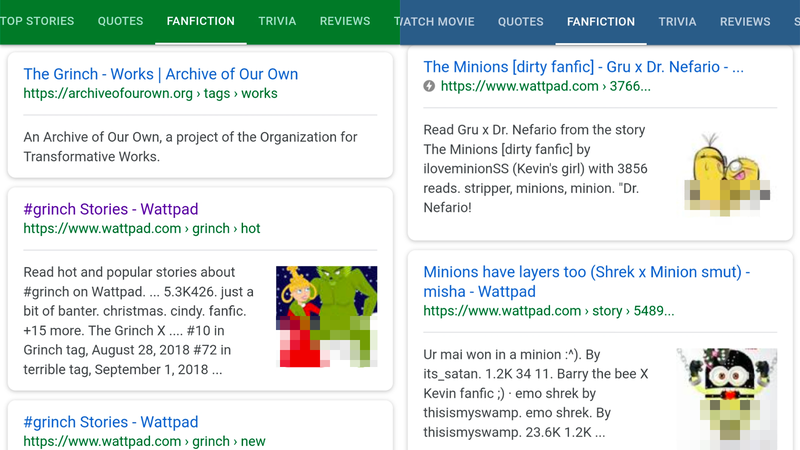 When Gizmodo contacted Google about the troubles of this tab, Google told Gizmodo they have temporarily removed it for TV and Film features. Ah, Google. It was a bold idea. It was exciting. But in the legitimizing of fan fiction, remember — Google's front page, or anyone really, is simply not ready for terrifying pornographic results for these things. Look, the internet is saturated already in terrifying porn of every fictional character ever created drawn by someone whose intentions are an absolute mystery. (Is it artistic expression? Are they big old pervs? What on Earth is this all about? Didn't 50 Shades of Grey start as Twilight fan fiction porn? What is happening!) For now, maybe the weird as hell corners of the internet are the right place to put these so no one sees a Minion wearing BDSM gear until they are emotionally ready to deal with something so grotesque.
Anyway, what do you think of all this madness? Let us know in the comments or on Twitter at @WhatsTrending.