As of late, many popular celebrities, perhaps even some of your favorites, have found themselves face-to-face with sexual assault allegations. Or rather, as face to face as possible when it comes to anonymous accounts on Twitter. 
Notable celebrities such as Ansel Elgort, Justin Bieber and Riverdale's Cole Sprouse, Lili Reinhart, Vanessa Morgan and KJ Apa have all been accused of sexual assault, with many of them speaking out against the allegations. While Ansel Elgort admitted to knowing his accuser he claimed to have had a consensual relationship with her that he handled poorly and apologized for via an Instagram post.
Justin Bieber denied the allegations and has since released receipts and taken legal action against his accusers. Many from the cast of Riverdale, including Cole Sprouse, Lili Reinhart and Camila Mendes have spoken out denying accusations as well. In all of these cases, the accusers have deleted their accounts. 
Most recently, High School Musical The Musical The Series star Joshua Bassett was trending as a result of a sexual assault allegation by someone on Twitter named Grace.
https://twitter.com/annaxgaleano/status/1275947639587176448?s=20
Bassett responded to this accusation, denying it and saying "this abhorrent rumor is absolutely false, and dangerous to actual victims with real stories." Grace has since deleted her account. 
it has come to my attention that a now deactivated account has spread rumors about me regarding a fabricated encounter with a fan accusing me of sexual assault. this abhorrent rumor is absolutely false, and dangerous to actual victims with real stories. (1/2)

— Joshua Bassett (@joshuatbassett) June 25, 2020
i'm sick to my stomach that someone would recklessly perpetuate such defamatory claims. it is vital to respect all peoples boundaries at all times. be kind and be good. (2/2)

— Joshua Bassett (@joshuatbassett) June 25, 2020
Following this, confusion erupted on Twitter when one user released screenshots of a conversation with someone claiming to be Grace who said that the allegations were not true but instead were just a social experiment.
yeah hi so um grace dmed me. she made up the whole thing as a social experiment. i already told her off for how wrong it was do to this but please don't forget that joshua has 2 other allegations against him. im deleting the ss of her tweet and you guys should too bc false info.

— jen ✡︎ (@tyIerswade) June 25, 2020
 "Grace" provided the user with proof that she was the same person who tweeted the allegations against Bassett but refused to come forward herself. Given the explosion of accusations against major celebrities by anonymous accounts on Twitter and the uncertainty surrounding them, the Twitterverse did some digging and found screenshots of emails suggesting that people are being paid to make these accusations. One email specifically asked for allegations against One Direction members.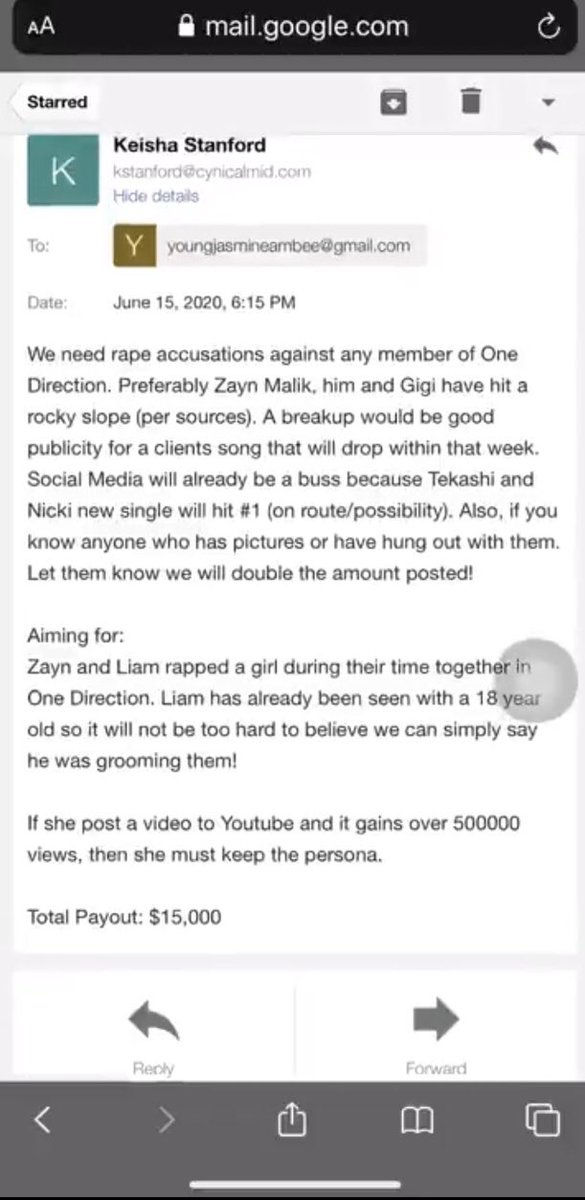 Another indicated 5 Seconds of Summer as the target, laying out the reward for creating these accusations. Yet another email that circulated contained a list of celebrities to choose from with the implication of a sexual assault allegation involved. 
Given these events of this past week, Twitter users and fans alike are torn between wanting to immediately believe a victim and the possibility that the alleged victim could actually be lying. As many of the accused celebrities highlighted, false accusations can be disastrous, specifically for actual victims of sexual assault who, as a result of backlash regarding false accusations, may find it harder to come forward with their own real stories. 
What do you make of these screenshots? Do you think the Twitterverse uncovered something or not? Let us know!