After the biggest anticipated wait, the season 10 reunion of Vanderpump Rules finally debuted and was the most drama fans have ever seen.
Viewers have been looking to this episode of the franchise since its production in early March of 2023. At the time, news of the months-long affair between stars Raquel Leviss and Tom Sandoval broke, leaving Ariana Madix frustrated as ever (as one should be).
The three-part special debuted on cable May 24th with Andy Cohen getting right into the big "Scandoval" that rocked the nation.
In Part 1, viewers see Cohen sitting down with cast members Sandoval, Leviss, and Madix for one-on-one discussions before getting into the thick of it with the rest of the cast.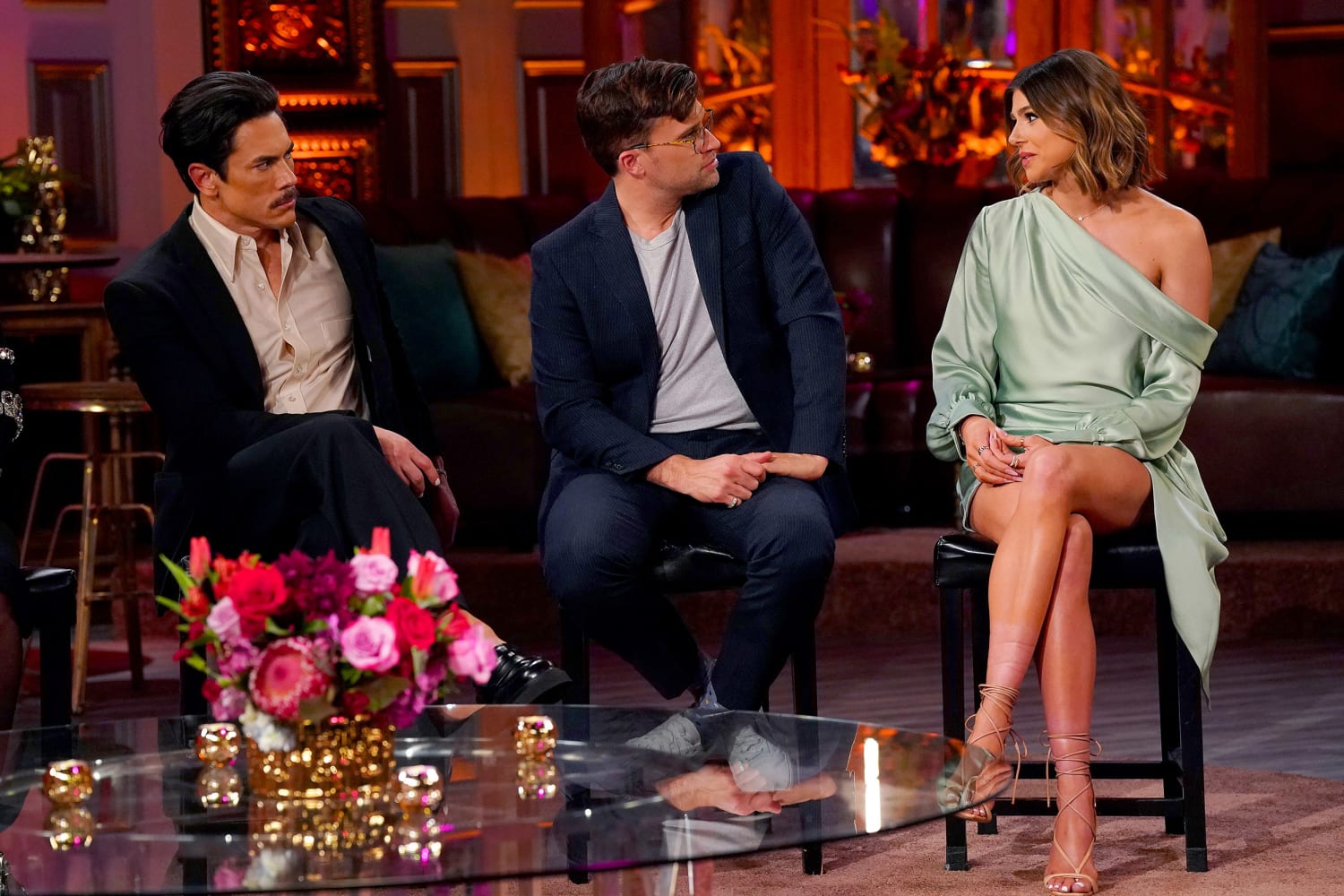 And the Bravo host did not hold back when it came to Tom Sandoval.
"It kind of feels like you're the most hated man on television right now," he told Sandoval.
This get together was the first time Sandoval and Leviss was with the group after the cheating scandal broke. Due to the restraining order placed on Scheana Shay from Raquel Leviss, the stars had to be separated for the first part of the reunion.
Madix was seen wearing a red-hot revenge dress joined by fellow cast members Lala Kent, Katie Maloney, James Kennedy and more after the individual interviews.
The Real Tom Sandoval and Raquel Leviss Timeline
While the physical relationship did not start until the summer, Sandoval admitted there was interest way ahead of time.
"Honestly, throughout last year, like towards like beginning of the year, I really started to see and get to know who she really was."
The bar owner also admitted that the two first hooked up shortly after Levis joined several other cast members during a guys' night in August of 2022.
"That very next See You Next Tuesday," Sandoval told Cohen of when the affair started. "They were filming. We weren't a part of it. But then a bunch of us went to The Abbey. [We had sex] that night."
Tom Sandoval Accused of Being a "Dangerous Human Being"
Cohen hinted at the current living situation when it came to Madix and Sandoval post scandal, and the bar owner revealed he was still living in the shared home the couple had together.
Andy later compared this situation to Lala Kent's relationship with ex-fiance Randall Emmett.
"Lala, I know when you and Randall broke up you got out of the house pretty quickly. Do you think it's healthy for these two to be sharing the home now?" he asked, to which Kent responded, "No. Sandoval is Randall. Give it 10 years, he is Randall Emmett. It's absolutely terrifying."
She continued, "That is a f—ing narcissist. Everyone needs to be warned about this person. This is a dangerous human being."
Why Tom Sandoval Didn't Tell Ariana About the Affair
Sandoval was a big focus in the reunion, and Cohen put even more pressure on him.
"Sandoval, once you started your relationship with Raquel, why not come clean to Ariana right then?" Cohen stated.
Leviss, who was in her trailer due to the restraining order in place, also wanted to know the answer.
"I was obviously scared to. I think also she was going through a lot during that time. And I didn't want to add anything," said Sandoval.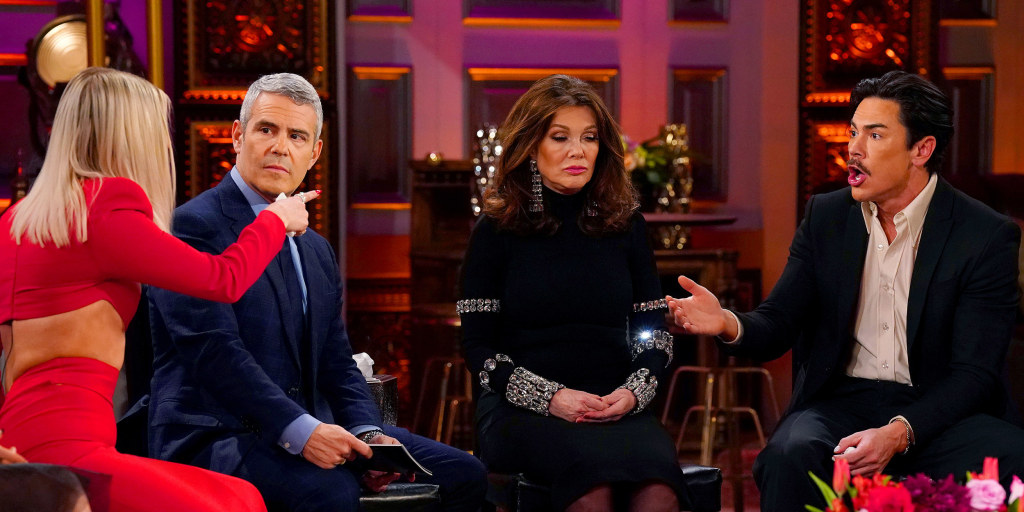 Schwartz Actually Knew About the Affair in August
Tom Schwartz claims he initially knew that Sandoval had confided in Leviss about the ongoing problems in the relationship with Ariana Madix.
"You pretty much told her everything that you've been telling me. You guys had like a kind of an intimate moment," Schwartz recalled.
Madix made reference to her dog passing in August saying, "When Charlotte's body wasn't even f—in' cold by the way."
Schwartz claimed he knew for the first time about the cheating in late August prompting much confusion from the cast.
Kent stated, "Oh no, did you not put your timelines together to match?"
Immediately after the statement, viewers see a clip where Cohen and Sandoval sit-down where he alleges telling Schwartz about the affair in "mid to late January."
Ariana Was Cheated on Before By Sandoval But Chose to Forgive Him
In 2015, Sandoval was accused of cheating on Madix at the very beginning of their relationship. In a trip to Miami, the star hooked up and was unfaithful with a woman – coined as the "Miami girl" – by costars.
At the time, Sandoval denied the accusations and Madix stood by her boyfriend.
We were not really exclusive at that time," she responded. "And I saw the rest of my life with this person, and I wanted everyone to see the best in him because that's what I saw at the time."
Ariana also claimed prior to the reunion that Sandoval and Leviss had sex in her guest room while she was asleep in the next room.
Jason Kennedy Storms Off Set
When Cohen details how the working relationship of many would be affected after this, Madix claimed she and Lisa Vanderpump "just won't be as close" if she continues to work with Sandoval.
Madix added that she "will have a hard time confiding" in Vanderpump if she stays in business with Sandoval.
Madix claimed Vanderpump "knows what's best for her" and said she doesn't "expect anything of anyone."
"I mean, I'm not someone who's going to be giving Lisa business advice," stated Madix.
Kennedy then accuses Vanderpump of "sticking up for Tom too much" and stormed off the set.